Due to hygienic concerns all sales are final.
However, WE STAND BY OUR PRODUCTS - if for any reason you are not satisfied with your order, please contact us and we can see about making it right.
PERFECT HOME + OFFICE+EVERYWHERE COMPANION FOR STERILIZING YOUR MASKS (*and a LOT of other stuff)!
UV-C has been scientifically proven to be effective at destroying viruses and bacteria and is currently used in hospitals and other facilities where a 'clean room' sterile environment is required.
The technology is now mature and safe that it has moved from large, expensive machines in hospitals to a handheld consumer versions. UVC devices are now very popular and the next level of cleaning for all kinds of surfaces.
This UVC Sterilizer Box stands out from all other boxes we looked at because it has one feature that very few other boxes have: it is foldable into a very small package no thicker than your average book. It also has 6 lights on both top and bottom which means that unlike some other boxes in the market that only has lights on top, you do not need to sterilize one side, then flip the mask around to sterilize the other side. (How tedious would that be?) You simply put the masks in their open position, press the button and in 180 seconds the light on both sides will sterilize your mask both inside and out.
It is easy to carry and use, safe and suitable for the home, office, travel, business trip, and more. This sterilizing box uses 12 LED UV lamps to effectively kill harmful microorganisms to keep the cleanliness of your masks, phone, keys, wallet, baby products, etc. The light is gentle but powerful and safe to use on all surfaces of everything you can put inside the box. Does not make anything warm. This box will serve way past its usefulness during this health crisis era, for years to come. It is an excellent investment in your health and your loved ones.
NOTE: While UVC light is safe to use, it is the same light as the sun, and prolonged exposure to UVC may cause irritation to your eyes. This box can operate with the lid open, while most people are smart enough not to stare at the sun, we need to put a disclaimer here that  do not look directly at the (pretty neon purple) light while the box is in operation (through the plastic window is okay).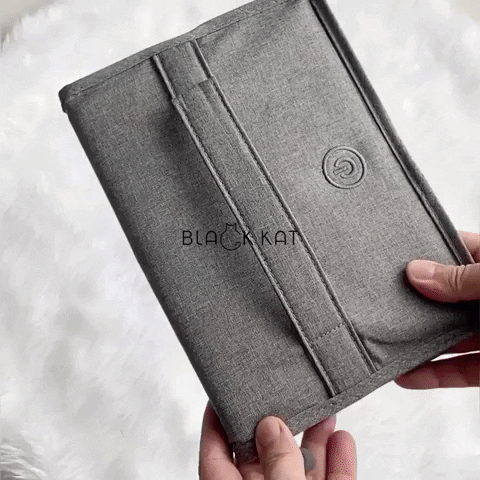 FEATURES:
EFFECTIVE AND POWERFUL STERILIZATION: Twelve(12) LED Lights use ultraviolet light (UV-C) to destroys the DNA of microorganisms to kill bacteria and viruses for sterilization. The sterilizing rate is high, up to 99.9%, similar to sanitizing gels and alcohol. 
EASY TO USE: This sterilization light is powered by USB cable. Simply press the power button and it will start the sterilization process for 180 seconds (3 minutes).
COMPACT AND PORTABLE: Foldable, compact, lightweight, and easy to store when not in use, or in your bag or backpack to carry it around and unfold when you get to your destination. Carry a USB Power Bank, and literally use it anywhere.
VERSATILE AND MULTI-USE: The large volume inside can sterilize two masks at the same time. It can be used to sterilize not only your masks, but also your Mask Cases, smart phone, baby products, etc. Will be useful for many years.
SPECIFICATIONS:
Function: 

UV Light Sterilization 

Wattage: 5

W

Light Source Type: 12 

UV-C light emitters

Dimensions:  10"x8"x6" (folds to 1.5")

PACKAGE INCLUDES:
1 x UVC FOLDABLE Sterilization Box

1 x USB Charging Cable

1x grill to elevate the products above the light 
Shipping
All orders ship out of our location in San Jose, California.
NOTE: due to high order volume and  current health crisis we're experiencing some delays in fulfillment and shipping times. Average time to ship out is about 7-10 days via USPS First Class Mail. We appreciate your understanding.